Maitland Concept® Level 3 '22 – ATHENS
COURSE VENUE:
Seminar Room EPIMORFOSIS 105 Karaoli & Dimitriou Str. (ex Eleftherias), 18345 – Moschato – Athens
MAX. NUMBER OF PARTICIPANTS:
18
SEMINAR CONSISTS OF 4 PARTS
Part 108/01/2022 - 11/01/2022 (current)
Part 2
18/03/2022 - 21/03/2022
Part 3
30/06/2022 - 03/07/2022
Part 4
16/09/2022 - 18/09/2022
Address to
The seminar is addressed exclusively in those who have attended the basic course of Maitland level 2b.
Course Language
Course language will be English with simultaneous translation to Greek.
Information
EPIMORFOSIS intends to organize a Level 3 seminar of the Maitland – Concept® method (Orthopedic Manipulative Therapy) under the auspices of the International Association of Method Teachers (IMTA).
The contents of the seminar are in accordance with the educational standards of IFOMPT (International Federation of Orthopedic Manipulative Physical Therapists).
The seminar lasts 15 days (4×4 days & 1x3days) and will be held in Athens.
Contents of the Seminars:
Part 1 – 4 days: Muscle Control
Part 2 – 4 days: Pain management & revision manips (qualitative research)
Part 3 – 4 days: Shoulder & Revision Manips (quantitative research)
Part 4 – 4 days: ESP Spinal Cord
Seminar Professors:
Part 1: Renée de Ruijter, IMTA Teacher
Part 2: Elly Hengeveld, IMTA Senior Teacher
Part 3: Rolf Walter, IMTA Senior Teacher
Part 4: Harald Bant, Teacher
The cost of the seminar is 1.940€.
To finalize your participation, you will have to pay 500€.
The remaining amount of 1.440€ should be deposited in 4 equal installments of 360€, at least 2 days before the beginning of each part of the seminar.
Participants are issued a certificate of participation recognized by IMTA which is valid internationally and is provided with printed monitoring material.
The seminar provides for clinical practice in real patients (one patient per 2 participants).
Participants (especially those from Athens) should insure these patients.
What is the Maitland® Concept?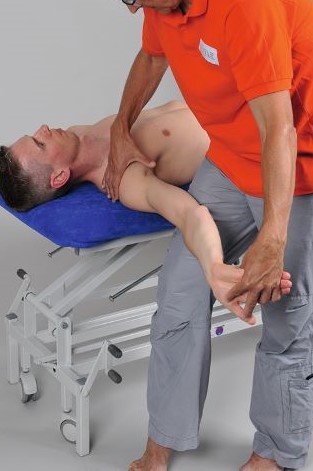 The Maitland® Concept is a concept of manual therapy whereby dysfunction in the joints, muscles and the nervous system are assessed and treated.
The application of techniques in the Maitland® Concept is based on the Clinical Reasoning Process and the ICF (International Classification of Functioning, Disability and Health).
The special characteristics of the concept include the individually adapted assessment and treatment procedures for each patient, the clinical experience of the therapists and the integration of the latest scientific findings.In addition to the passive joint mobilisation and manipulation of the extremities and the spinal column, neurodynamic techniques, muscle re-education and individually adapted home programmes are also used.
The IMTA Course System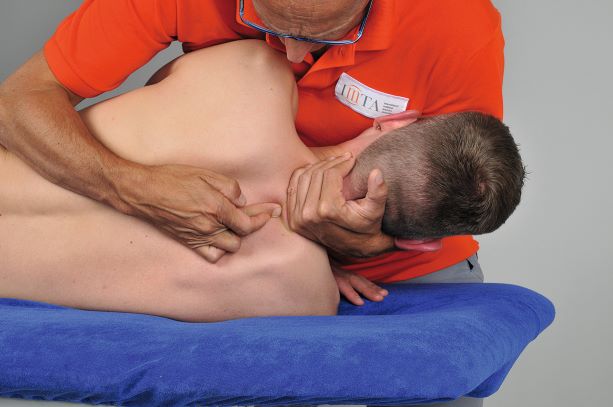 The IMTA offers an 11-week continued education course system with a total of 440 hours.
The course system is composed of 4 modules in which physical therapists learn problem-oriented procedures for treating patients with movement dysfunctions.
In all the modules, the participants examine and treat patients under supervision.
Practical demonstrations of patient treatments are conducted by the course instructors.
The IMTA courses are a prerequisite for achieving a qualifi cation in Orthopaedic Manual Therapy (OMT) according to the guidelines of the IFOMPT (International Federation of Orthopaedic Manipulative Physiotherapists) in various European countries
3 Week Advanced Course
– In-depth review of the contents of Level 1 and Level 2
– Advanced Pain Management, Clinical Reasoning and Psychosocial aspects in the examination and treatment of patients
– Discussion of specifi c pathobiological risk factors
– Principles, assessment and management of dynamic control impairments of the pelvis, hip and knee
– Assessment and management of craniomandibular dysfunctions and related pain syndromes
– Assessment and management of clinical syndromes such as shoulder instability, shoulder impingement, lumbar stenosis and advanced management and update of cervical instability
– Update and revision of manipulations (Grade V) of the spinal column
– Advanced Clinical Reasoning, problem-solving and pain-management strategies
– Equivalent to 8 ECTS points
Level 3 (15 days)
Conditions of Participation:
IMTA Certificate of Attendance (Level 2b)
A minimum of 6 months of clinical experience is required between Level 2b and Level.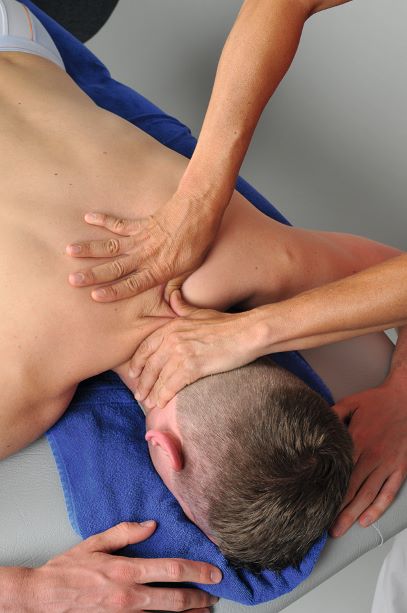 General Objectives:
Further understanding of Level 2a and Level 2b material.


Evaluation and treatment of specific clinical syndromes including: shoulder instability, shoulder impact, lumbar stenosis as well as further treatment of cervical instability review.



Advances in Pain Management and Clinical Reasoning including Secondary Prevention.



Psychological evaluation and specific patho-biological risk factors.



Principles, evaluation and treatment of the dynamic control of pelvic, hip and knee diseases.



Evaluation and treatment of scalp – personal dysfunction associated with pain syndromes.



Improving, updating and reviewing spinal manipulations (highvelocitythrustsGradeV)



Advanced clinical thinking "ClinicalReasoning" and problem solving strategies in patient evaluation and management.
You can find more information in web site www.imta.ch
Teachers
Ways of Payment
1. Credit or Deposit card payment
You can deposit the down payment or the total fee via credit or deposit card (Visa, Mastercard & American Express) from the webpage of each course, through VivaPayments.
You are solely responsible for the proper entry and the genuineness of your credit/deposit card's details. EPIMORFOSIS bears no responsibility in case of any error.
Any payment commission is charged to EPIMORFOSIS
2. Deposit – Transfer to our bank account.
You can deposit or transfer the requested amount for your registration to the following accounts, writing your full name in the field "Reason for the Beneficiary":
PIRAEUS BANK:
ΙΒΑΝ: GR5501722380005238070348955
SWIFT(BIC): PIRBGRAA

NATIONAL BANK of GREECE:
IBAN: GR6801102170000021744103439
SWIFT(BIC): ETHNGRAA

ALPHA BANK :
ΙΒΑΝ: GR4801407080708002002013410
SWIFT(BIC): CRBAGRAA

EUROBANK:
ΙΒΑΝ: GR4502600370000010201090153
SWIFT(BIC): ERBKGRAA

Beneficiary: EPIMORFOSIS KENTRO EPIMORFOSIS STELECHON YGEIAS OE

The bank transfer fee charged to EPIMORFOSIS
Terms of Participation
1. A certificate of attendance, a degree or a diploma will be issued.
2. Printed handouts are provided (notes or relevant book).
3. In case of cancellation of the seminar due to EPIMORFOSIS's responsibility, deposited fees will be refunded immediately.
4. EPIMORFOSIS reserves the right to change the date or postopone seminars, informing participants by phone and / or sms & e-mail. In such a case participants are entitled to request full refund of their fees if they do not wish to attend the seminar on the new date or to use this amount for their participation in other seminars or services of the company.
5. In the event of a strike, government's bans, heavy bad weather, and generally any event beyond the reasonable control of the organisers which impedes the execution of part or all of the seminar, the organizers reserve the right to change the date and time of the event. In this case the fees are not refundable but are valid as they are.
6. Cancellation of participation due to participant's responsibility is possible only by email, as follows:
• up to 30 days prior to the start of the seminar, all deposits are refundable.
• up to 15 days prior to the start of the seminar, 50% is refundable.
• no refund after this deadline, exceptions could be only by decision of EPIMORFOSIS.
7. The realisation of the course will be confirmed by email or/and sms to be sent to participants, in time.
8. It is advised not to purchase your flight tickets until you receive this confirmation email (or/and sms).
9. LLC-1 EPIMORFOSIS keeps the right to change course venues.
Hotels
You can make your own reservation declaring the name of Epimorfosis.
Hotel Delfini**
More information: Tel.: +30 210 94 15 364 & 94 15 373
Map
Maitland Concept® Level 3 '22 – ΑΘΗΝΑΣ
€360.00 – €1,940.00
Testimonials
EPIMORFOSIS organizes specialization seminars for rehabilitation professionals. I've watched a lot. I strongly recommend you trust EPIMORFOSIS for your specialization and lifelong information.
- Alexandros Karagiannidis -
Training, a steady value for more than twenty years now, leads physiotherapy and keeps it at a very high level, well done to George Karambalis and his associates, we owe a lot to all of you.
- Philip Tzimoulis -
The best physiotherapists training institution. It enables the development of the necessary knowledge for clinical reasoning. High-quality training without having to travel abroad.
- Tsoukalas Kotsiris Georgios -
My first steps in professional specialization started with EPIMORFOSIS and continue. It has been with us all these years, covering the need for modern and documented knowledge, in collaboration with internationally acclaimed educational institutions.
- Kostas Poulis -
I have known George Karampalis and EPIMORFOSIS for many years. I've had the opportunity to join several clinical courses and I can argue that, at the level of organisation and selection of trainers, they have a high level of recognised prestige.
- Georgia Petta -
EPIMORFOSIS justifies its name by providing high quality courses. George Karampalis operates more like a constant "trainee" and less like an entrepreneur, and this is an additional positive fact in the effort that is put by the workers and teachers of EPIMORFOSIS.
- Dimitris Stamoulis -